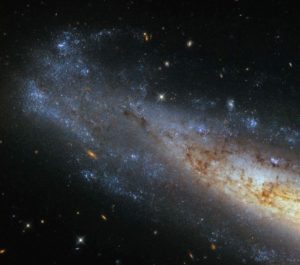 In March I attended in Berlin the 2017 edition of Disrupt Space (http://disruptspace.io).  It was a great event, with a lot of insights, and with a common conclusion among the attendees: we are entering the new age of space exploration!  There is a new world of possibilities for entrepreneurs having the desire to build a tech startup (i.e. a space startup) (i) exploiting the resources offered by space (ii) developing the technologies required for space exploration and exploitation (iii) using technologies brought by the space industry. During the event, speakers, panelists and experts coming from all around the globe, discussed the reasons why it's today a great time for entrepreneurs to jump into the space industry as well as for investors to put their money into space-related business.
First, during his opening keynote, Amaresh Kollipara (http://www.earth2orbit.com/crew.html) explained the space disruption.  Amaresh is currently leading a unique VR program at Oculus.  In addition, he is a Founder and Managing Partner of Earth2Orbit, LLC, which is a professional advisory firm with an aerospace industry focus.  Amaresh explained that the space industry can be disrupted by innovation, by creativity or by collective consciousness.  We are facing innovative technology disruptors like SpaceX or OneWeb which are building the infrastructures required for space exploration.  But there are also innovative disruptors in applications like OmniEarth, RS Metrics, Descartes Labs or Orbital Insight.  Space can also be disrupted by creativity.  Amaresh showed a VR training program especially made for astronauts and using Oculus glasses.  This was amazing!  Last, he explained that the collective consciousness can also disrupt the space industry. This means to get the space fever again.
''Make space exciting again!''.
Then, Chad Anderson, CEO of the Space Angels Network (http://spaceangelsnetwork.com), who got the Disruptor Award of the Year, explained that space allows people to get another perspective of the major problems on Earth.
He thinks that ''space is the ultimate social venture where you can really make an impact on the World''.
During different panels and workshops, it was pointed out that space entrepreneurial ecosystems must be built and that aspiring space entrepreneurs must understand the value chain of that industry, and how they can make a real impact on the world, because almost any business on Earth can benefit from space technologies. According to the experts, it is now time ''to build the 21st century space ecosystem''.  How to achieve this?  They are advocating for a shift from a project-based industry to a product-based industry.  François Auque, Chairman of the Board of Airbus Ventures (http://www.airbusventures.vc) suggests demystifying space industry that is still too often seen as a closed world.  He invites entrepreneurs to challenge space and ground applications thanks to artificial intelligence, big data, machine learning, … and instead of reinventing the wheel, to re-use and improve existing systems or subsystems, exactly like Elon Musk did at Space X with the rocket engines.
What about investors?  Is space investment a new global asset class for investors?  Is space business only accessible for big boys wanting to play with big toys?  The answer seems to be ''not at all''.  Satellite navigation can be efficiently used in autonomous cars and drones that venture capitalists and business angels have already embraced.  Just think at timing info required to synchronize data in such mobility applications.  Similarly, VC's and angels are investing massively in big data.  New applications can be created in geo-intelligence by analyzing satellite images with big data algorithms.  For example, VanderSat (http://www.vandersat.com) is downscaling satellite images to provide soil moisture info.  Investors are also massively putting their money in satellite communication with much cheaper disruptive solutions.  This leads to innovative services like monitoring railway assets, as provided by the Belgian startup Ovinto (http://www.ovinto.com/).
What are the hot places for the space ventures?  While US remains a leading spot, and while China and India have made phenomenal progresses, Europe is an excellent hub for space entrepreneurship.  The European Commission presented their support programs with Copernicus for Earth Observation and Galileo for satellite navigation.  Access to the data is free and there is a ton of applications waiting to be created (by entrepreneurs) for improving our daily life. Earth observation data can be used for land and maritime observation, for tracking climate changes, for the analysis of the atmosphere, for creating innovative services for emergency and security.  Navigation data can be used for urban mobility applications like autonomous cars and drones or for IoT solutions. It was made very clear that the European Union has a vision for the European space industry, and is providing the required infrastructure and measures to support space entrepreneurs.
According to Planet (https://www.planet.com) Co-founder and Chief Strategy Officer, Robbie Schingler, ''Europe is the best place in the world for earth observation''.
The event concluded with a panel titled ''Disrupting the Final Frontier''.  This may sound like the voice off of an episode of Star Trek.  But in fact, it was a very serious discussion.  Kyle Acierno, Global Business Development Manager at ispace (http://ispace-inc.com )(ispace is one of the teams in the running for the Google Lunar XPRIZE of $20 million) explained that in 10 years there will be regular missions to the moon, in 15 years humans will exploit lunar resources, in 20 years there will be a permanent station on the moon, and in 25 years, there will be regular travels to the moon.
''Space is sexy again!'', concluded Kyle.
This sounds like the true conclusion of this article.  Space fever is clearly back and is opening a world of opportunities for space entrepreneurs willing to enter the new age of space exploration.